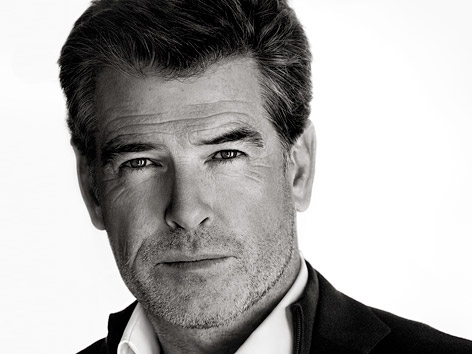 Recognized internationally as one of the most dashing and skilled dramatic actors in Hollywood today, two time Golden Globe Award nominee Pierce Brosnan will be seen in no less than four films this year.
Brosnan began the year starring in Percy Jackson & The Olympians: The Lightning Thief based upon the best-selling novel by Richard Riordan. Audiences then saw him star with Ewan McGregor in Roman Polanski's critically acclaimed film The Ghost Writer, which premiered at the Berlin Film Festival in mid-February. Then he co-starred with Robert Pattinson inRemember Me and starred with Susan Sarandon and Carey Mulligan in The Greatest which premiered to rave reviews at the Sundance Film Festival in 2009.
His film credits include the smash hit film adaptation of the Broadway hitMamma Mia! (2008) opposite Meryl Streep, Married Life (2007) in which he starred with Rachel McAdams, Patricia Clarkson and Chris Cooper for director Ira Sachs, the Civil War drama Seraphim Falls (2007) in which he starred opposite Liam Neeson, The Matador (2005) for which he received a Golden Globe Award nomination for Best Performance by an Actor in a Motion Picture and a nomination for Best Actor in a Lead Role from the Irish Film & Television Academy, John Boorman's critically acclaimed film from the novel by John LeCarre, The Tailor of Panama (2001), Sir Richard Attenborough's Grey Owl (1999), Mars Attacks (1996), The Mirror Has Two Faces (1996) alongside Barbra Streisand, Mrs. Doubtfire (1993) with Robin Williams and Bruce Beresford's Mr. Johnson (1990).
But he is perhaps best known worldwide as James Bond. Brosnan reinvigorated the popularity of the Bond legacy in box-office blockbustersGoldeneye (1995), Tomorrow Never Dies (1997), The World Is Not Enough(1999) and Die Another Day (2002). Brosnan's first three Bond films earned over a billion dollars at the international box-office and Die Another Day alone garnered almost a half-billion dollars worldwide.
In addition to his four Bond films, three other Brosnan films – The Thomas Crown Affair (1999), Dante's Peak (1997) and The Lawnmower Man (1992) combined have earned hundreds of millions of dollars internationally, cementing him as one of the world's most bankable stars.
Most recently Brosnan completed filming Salvation Boulevard with Greg Kinnear, Ed Harris and Jennifer Connelly and he will next star for director Walter Hill in St. Vincent with Billy Bob Thornton which will begin filming later this year.
In addition to his work in front of the camera, Brosnan has always had an interest in the art of filmmaking. Having achieved international stardom as an actor, Brosnan expanded the range of his film work by launching his own production company, Irish DreamTime in 1996, along with producing partner Beau St. Clair.
Irish DreamTime has produced seven films to date: The Nephew (1998), The Thomas Crown Affair (1999), Evelyn (2002), Laws of Attraction (2004), The Matador (2005), Shattered (2007) and The Greatest (2010). The company's first studio project, The Thomas Crown Affair, was a critical and box-office success and one of the best-reviewed and highest-grossing romantic thrillers in years. Evelyn, directed by Bruce Beresford, opened to critical acclaim at the Toronto and Chicago Film Festivals and also garnered rave reviews.Laws of Attraction, a romantic comedy, starring Brosnan and Julianne Moore, as dueling divorce attorneys who fall in love. The Matador co-starring Greg Kinnear earned Brosnan critical success and a nomination for a Golden Globe Award, Shattered, starred Brosnan with Maria Bello and Gerard Butler andThe Greatest with Susan Sarandon and Carey Mulligan.
Upcoming projects for Irish DreamTime include St. Vincent and the second installment of The Thomas Crown Affair.
Some of Brosnan's many accolades include the 2007 Goldene Kamera Award for his environmental work, a Lifetime Achievement Award at the Chicago Film Festival, the International Star of the Year at the Cinema Expo in Amsterdam, an Honorary Doctorate of Arts from the Dublin Institute of Technology, an Honorary Doctorate from the University College Cork and an Order of the British Empire bestowed by Her Majesty the Queen.
Brosnan was born in County Meath, Ireland and moved to London at age 11. At 20, he enrolled in drama school and while in London, performed in several West End stage productions including Franco Zeffirelli's Fulimena and Tennessee Williams' The Red Devil Battery Sign at the York Theater Royal. Brosnan relocated to Los Angeles in 1982 and immediately landed the role of private investigator Remington Steele on the popular ABC television series of the same name.