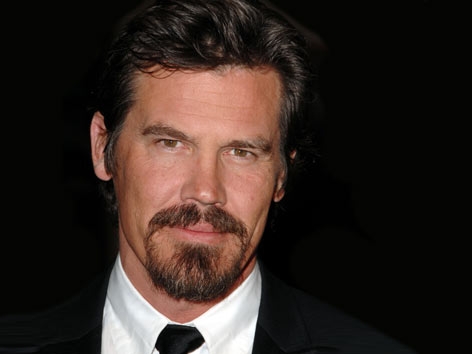 Josh Brolin continues to emerge as a powerful, sought after film actor willing to take on challenging roles in both major studio productions as well as independents.
Brolin will appear as the young Agent Kay in MEN IN BLACK III with Will Smith to be released in May 2012. Currently, he is filming GANGSTER SQUAD alongside Sean Penn and Ryan Gosling. Brolin is also tapped to star in Spike Lee's remake of OLDBOY, followed by Jason Reitman's LABOR DAY with Kate Winslet.
Brolin will soon step behind the cameras to direct an adaptation of the play PITZ AND JOE. He is also slated to produce and star in THE HUNCHBACK OF NOTRE DAME to be directed by Tim Burton.
Brolin was nominated for an Academy Award, a Screen Actors Guild Award and received awards from the New York Film Critics Circle and the National Board of Review for his portrayal of 'Dan White' in Gus Van Sant's acclaimed film MILK.
Last year, Brolin starred in Oliver Stone's WALL STREET: MONEY NEVER SLEEPS opposite Shia LaBeouf and Michael Douglas, Woody Allen's YOU WILL MEET A TALL DARK STRANGER opposite Anthony Hopkins and Naomi Watts, and in the Coen Brothers TRUE GRIT, which was nominated for 10 Academy Awards including Best Picture.
Brolin received rave reviews for his portrayal of George W. Bush in Oliver Stone's biopic W. In 2007, he earned a Screen Actors Guild Award as part of an ensemble for his work in Joel and Ethan Coen's NO COUNTRY FOR OLD MEN, which also won four Academy Awards including Best Picture and Best Director. Additionally, he starred in Ridley Scott's blockbuster AMERICAN GANGSTER and was nominated for a Screen Actors Guild Award as part of this ensemble.
Brolin produced, along with Matt Damon, Chris Moore, Anthony Arnove, and Howard Zinn, a documentary entitled THE PEOPLE SPEAK, based on Zinn's influential 1980 book A People's History of the United States. The feature, which aired on the History Channel, looked at America's struggles with war, class, race, and women's rights and featured readings by Viggo Mortensen, Sean Penn, and David Strathairn, among others.
In early 2008, Brolin made his film directing debut with a short entitled X, which he also wrote and produced. It premiered at the Santa Barbara International Film Festival before screening at such festivals as South by Southwest and the AFI Dallas Film Festival. He also directed the behind-the-scenes documentary for the No Country for Old Men DVD.
Brolin made his feature film debut starring in the action-comedy GOONIES, directed by Richard Donner for producer Steven Spielberg, and has since appeared in several successful films including Paul Verhoeven's blockbuster hit HOLLOW MAN, with Kevin Bacon, and Jim Stern's controversial film, IT'S THE RAGE, which made its debut at the 1999 Toronto Film Festival, featuring an all-star cast including Gary Sinise, Joan Allen, Giovanni Ribisi, and Anna Paquin.
Brolin received recognition from critics and audiences in David O. Russell's FLIRTING WITH DISASTER, portraying a bisexual federal agent, torn between a love from the past and the reality of a current relationship. The film featured an outstanding ensemble cast including Ben Stiller, Patricia Arquette, Tea Leoni, Mary Tyler Moore, George Segal, Alan Alda, Lily Tomlin and Richard Jenkins.
Additional film credits include PLANET TERROR, part of the critically acclaimed Quentin Tarantino and Robert Rodriguez double feature GRINDHOUSE alongside co-stars Rose McGowan and Freddy Rodriguez; IN THE VALLEY OF ELAH for director Paul Haggis; Victor Nunez's COASTLINES, which premiered at the 2002 Sundance Film Festival, opposite Timothy Olyphant; Scott Silver's MOD SQUAD, opposite Claire Danes; Ole Bornedal's psychological thriller NIGHTWATCH, with Nick Nolte, Patricia Arquette, and Ewan McGregor; BEST LAID PLANS opposite Reese Witherspoon and Alessandro Nivola, produced by Mike Newell; Guillermo Del Toro's science-fiction thriller MIMIC, opposite Mira Sorvino, Jeremy Northam, and Charles Dutton; as well as John Stockwell's INTO THE BLUE where Brolin starred opposite Jessica Alba.
Brolin made his mark in television as a series regular in the popular ABC series THE YOUNG RIDERS as well as PRIVATE EYE for NBC and WINNETKA ROAD for CBS. Brolin also received critical praise in the TNT's epic miniseries INTO THE WEST, opposite Beau Bridges, Gary Busey and Jessica Capshaw. In addition, Brolin starred in the title role of NBC's acclaimed political drama, MR. STERLING. The show followed the efforts of an idealistic young politician as he attempted to both learn and work within an often corrupt system. He also appeared in the CBS movie-of-the-week PRISON OF CHILDREN, and in the Showtime original film GANG IN BLUE with Mario Van Peebles, J.T. Walsh and Stephen Lang. Brolin co-starred opposite Mary Steenburgen, Gretchen Mol and Bonnie Bedelia in CBS's television adaptation of William Inge's Pulitzer Prize-winning play, PICNIC.
Brolin spent five years with Anthony Zerbe at the Reflections Festival at the GeVa Theatre in Rochester, New York. While there, he performed in and directed several of the festival's plays, including Pitz and Joe, Life in the Trees, Forgiving Typhoid Mary, Oh, The Innocents, Peep Hole, Ellen Universe Joins the Band, Lincoln Park Zoo and Hard Hearts. Brolin also starred opposite Elias Koteas in the acclaimed Broadway production of Sam Shepard's True West. In 2004, Brolin starred in the award-winning Off-Broadway play The Exonerated, based on the true stories of a half-dozen former death row inmates.
Additional stage credits include Skin of the Teeth, The Crucible and A Streetcar Named Desire at the Kennedy Memorial Theatre; A Midsummer Night's Dream at the Lebrero Theatre; and Dark of the Moon at the Ann Capa Ensemble Theatre.