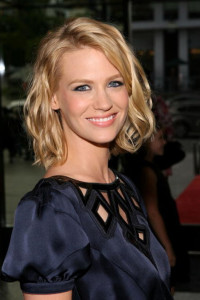 January Jones is best known for her role in AMC's critically acclaimed Emmy, Golden Globe and SAG Award- winning series, "Mad Men." Set in the 1960s, January portrays "Betty Draper," a young mother who was once married to the high powered philandering advertising executive, 'Don Draper,' played by Jon Hamm. Her performance in this role earned her a 2009 and 2010 Golden Globe nomination for "Best Performance by an Actress in a Television Series – Drama" and a 2010 Emmy nomination for "Outstanding Lead Actress in a Drama Series." The series recently wrapped its seventh and final season.
January is also starring in FOX's highly rated new comedy series, "The Last Man on Earth." The series follows the adventures of Will Forte's character, "Phil Miller" and the few individuals who survived a cataclysm that takes place on earth in 2022. The show was just picked up for a second season and will start production later this year.
Recently, January starred in "Good Kill" opposite Ethan Hawke. The film was directed by Andrew Niccol and premiered at the Venice and Toronto Film Festivals in 2014.
In 2013, she starred in "Sweetwater" opposite Ed Harris and Jason Isaacs. The film was directed by Logan and Noah Miller.
In 2011, January portrayed the Marvel super hero, Emma Frost, in "X-Men First Class." That same year, she also starred opposite Liam Neeson and Diane Kruger in "Unknown."
In 2009, January starred in "Pirate Radio" written and directed by Richard Curtis. The film is a period comedy about an illegal radio station in the North Sea in the 1960's. Jones stars opposite Academy Award winner Phillip Seymour Hoffman and Academy Award nominated Kenneth Branagh.
In 2006, January starred in the critically acclaimed festival hit "Swedish Auto." January portrays a woman torn between caring for her mother and leaving an abusive home. Also in 2006, she portrayed the real life character "Carol Dawson" in Warner Brother's "We Are Marshall." The McG directed film stars Matthew Fox and Matthew McConaughey as the coaches of the Marshall College football team who died in a plane crash.
January is revered for her critically lauded performance in Sony Classic's "Three Burials of Meliquiades Estrada" for director and actor Tommy Lee Jones. January portrays a young woman married to a border cop who accidentally murders an illegal immigrant. The film debuted to rave reviews at the Cannes Film Festival in 2005.
Jones other credits include;Universal's "American Wedding," Sony's "Anger Management" alongside Adam Sandler and Jack Nicholson, Universal's "Love Actually" with Colin Firth and Keira Knightly, MGM's "Bandits" with Billy Bob Thorton, Bruce Willis and Cate Blanchett for Director/Producer Barry Levinson and Mirmax's "Full Frontal" directed by Steven Soderbergh.
January currently resides in Los Angeles.