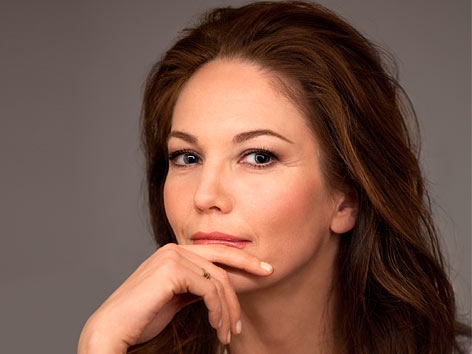 Diane Lane continues to flourish as one Hollywood's premier talents and leading ladies. Garnering many SAG, Golden Globe, and Oscar® nominations for work, Lane steadily top-lines a diverse slate of both independent and major studio releases, helmed by some of the world's most renowned directors.
Lane most recently starred in HBO's "Cinema Verite," a behind-the-scenes look at the making of the first American family to be the subjects of a reality TV show. Her performance as Pat Loud, opposite James Gandolfini and Tim Robbins, has garnered Lane an Emmy® nomination for Outstanding Actress in a Miniseries or Movie. Lane will next star in the highly anticipated new Superman feature, "Man of Steel," directed by Zack Snyder in which she stars as Clark Kent's mother, opposite Henry Cavill, Amy Adams, Russell Crowe, Kevin Costner, and Laurence Fishburne. Lane was previously seen opposite John Malkovich in "Secretariat" directed by Randall Wallace. Based on a true story, Lane portrays Penny Chenery, owner of the racehorse Secretariat, who won the Triple Crown in 1973.
In 2002, Lane was hailed as "Best Actress" by the New York Film Critics and National Society of Film Critics and received an Academy Award nomination for her turn as an adulterous wife in the critically-acclaimed Adrian Lyne film "Unfaithful." Lane's impressive filmography includes the acclaimed Francis Ford Coppola films, "The Outsiders," "Rumble Fish" and "The Cotton Club." Additional credits include: George C. Wolfe's "Nights in Rodanthe" opposite Richard Gere, Gregory Hoblit's recent thriller, "Untraceable;" John Madden's "Killshot," Doug Liman's "Jumper," Allen Coulter's period piece, "Hollywoodland," with Ben Affleck and Adrian Brody; the comedy "Must Love Dogs," with John Cusack; the drama "A Walk on the Moon," which landed Lane an Independent Spirit Award nomination; the Audrey Wells romantic comedy "Under the Tuscan Sun," which resulted in a Golden Globe nomination; Wolfgang Peterson's action film "The Perfect Storm," with George Clooney and Mark Wahlberg;" the highly successful adaptation of Willie Morris' childhood memoir, "My Dog Skip;" the critically acclaimed independent feature "My New Gun;" "Hardball" opposite Keanu Reeves; her portrayal of actress Paulette Goddard in "Chaplin," for director Sir Richard Attenborough; Peter Masterson's independent drama "The Only Thrill" opposite Diane Keaton, Sam Shepard and Robert Patrick; the Warner Bros. political thriller, "Murder at 1600" opposite Wesley Snipes; Coppola's "Jack" opposite Robin Williams, and Walter Hill's epic Western, "Wild Bill," with Jeff Bridges.
On television, Lane has appeared in a wide range of roles in some of the most acclaimed made-for-TV movies and miniseries in history including TNT's "The Virginian" opposite Bill Pullman; A Streetcar Named Desire" opposite Alec Baldwin and Jessica Lange; and her Emmy-nominated role "Lorena" in the CBS series "Lonesome Dove," opposite Robert Duvall. She also starred opposite Gena Rowlands in the Hallmark Hall of Fame drama, "Grace & Glorie" for CBS. In 1994, Lane starred opposite Donald Sutherland, Cicely Tyson and Anne Bancroft in the CBS epic miniseries, "The Oldest Living Confederate Widow Tells All." Based on the best-selling novel by Allan Gurganus, Lane portrayed a character from her early teens into her sixties.
The daughter of drama coach Burt Lane and singer Colleen Farrington, at the age of six, Lane answered a call for child actors at La Mama Experimental Theater. She won a role in Andrei Serbian's unique version of "Medea" and subsequently appeared over the next five years in his productions of "Electra," "The Trojan Women," "The Good Woman of Szechuan," and "As You Like It," both in New York and at theater festivals around the world. After performing in Joseph Papp's productions of "The Cherry Orchard," and "Agamemnon" at Lincoln Center in 1976-77, Lane starred at The Public Theater in "Runaways," and made her film debut opposite Sir Laurence Olivier, in George Roy Hill's "A Little Romance" in 1978.
Lane is an ambassador for Neutrogena®, a worldwide leader in the development of highly effective, dermatologist-recommended skincare and cosmetics.