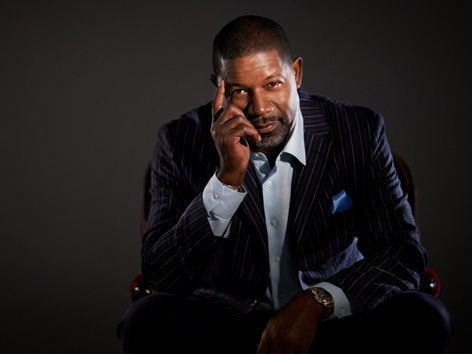 Dennis Haysbert captured the attention of audiences and critics alike with his groundbreaking role as President David Palmer on FOX's hit series "24," for which he received his first Golden Globe nomination. He returned to television to star in the CBS series "The Unit," which premiered with record-breaking ratings.
Haysbert just wrapped production on Dimension's "Sin City" in which he stars as Manute.
Haysbert was most recently seen in Indomina's indie drama "LUV," Weinstein Co's dark comedy "The Details" and Disney's animated feature "Wreck-It Ralph."
His film credits include Universal's "Breach" and "Jarhead," New Line Cinema's "Love and Basketball," Warner Bros., "Absolute Power," Orion Production's "Love Field," Paramount's "Major League", Warner Bros., "Heat," Columbia Pictures' "Random Hearts," Trimark Picture's "What's Cooking," Fox's "Waiting to Exhale," Columbia Pictures and Sony Production's "The Thirteenth Floor," Orion Picture's "Navy Seals," Alfa Omega's "Suture," and Dream Works' "Sinbad Legend of the Seven Seas." Haysbert also appeared on the small screen in the critically acclaimed CBS production "Now and Again."
Haysbert is a third-party advocate for Allstate Insurance Co. and has appeared in commercials for the company since 2003.
Born and raised in Northern California, Haysbert began acting with a television role on an episode of the Emmy-winning "Lou Grant."
He is active in the fight against AIDS and in 2000 was spokesperson for the Harlem Health Expo "Break the Silence" as and The Western Center on Law and Poverty. He has done many USO tours, most recently in Italy, Germany, Southwest Asia, Afghanistan and aboard a Naval Ship.
Haysbert lives in Los Angeles.